Team JKT are a team of 4 men based in Leeds.  They started on Sunday (29th May) and are attempting to break a world record by visiting every mainland lifeboat station in the UK within 7 days.  They are doing this to raise money and awareness of the RNLI's lifesaving work around the UK.  Their aim is to reach each station at a very specific time and should arrive in Aldeburgh on Thursday 1st June at 18.28.  So all support for Team JKT would be very welcome!
It is with deep regret to announce the recent death of former Lifeboat Guild Treasurer, Adam Turnbull.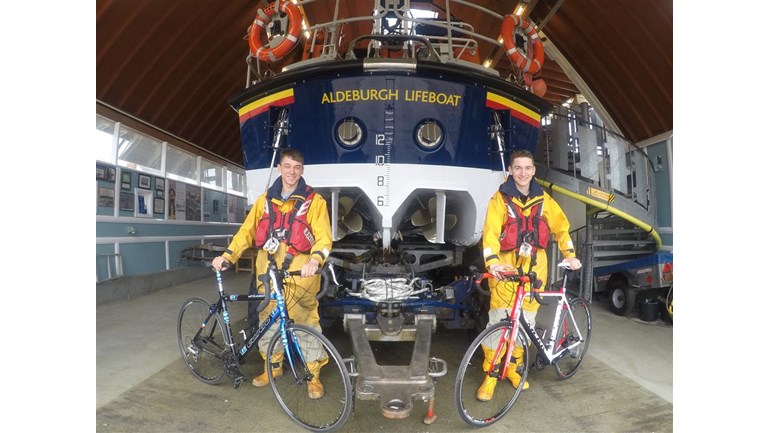 Luke and Alex have decided to take part in the 120 mile cycle ride from London Fields to Dunwich to raise money for the RNLI, a charity very close to their hearts, as they are both Aldeburgh Lifeboat crew.
What is the Dunwich Dynamo? It is a 120 mile bike ride from London Fields to Dunwich, starting on Saturday 8th July at 8pm, until they reach Dunwich on the Sunday.  However, as they are doing the 120 miles, they thought they might as well finish it off and get back to Aldeburgh! So in total a distance of approximately 132 miles.
Why are they raising money for a charity they give up their time for? Luke and Alex both said 'The RNLI is such an amazing charity and it is a pleasure to volunteer for them. They give us first class amazing training to help them save lives at sea, but we wanted to give back more than just our time'.
https://www.justgiving.com/fundraising/lukeandalex4rnli
Littlehampton Lifeboat Station carried out a fundraising event by cycling from Aldeburgh Lifeboat Station to Littlehampton.  A couple of the cycling team are pictured above, the first starting at Aldeburgh, with 2 very tired cyclists at Littlehampton in the second.  They have raised over £3000 for the RNLI!
Aldeburgh Lifeboat Station will receive a new D Class Inshore Lifeboat (ILB) on Wednesday 3rd May, which will arrive at approximately 1-2pm.  This will replace the current ILB, 'Christine'.  The new ILB is numbered D808 and will go into service soon after arrival.  There will be an official naming ceremony on Saturday 10th June at 1pm and the ILB will be called 'Susan Scott'.
Lee Firman started volunteering with the charity 21 years ago at Aldeburgh.  Lee, now aged 39, has been a volunteer Coxswain and crew member at Aldeburgh. Lee, who lives in Chester, has also spent time at Angle and St Ives Lifeboat Stations in his role as Fleet Staff coxswain and is currently working as a Divisional Operations Manager for the RNLI.
Freddie Cooper in the boat lift at Levington Marina having arrived by road from Poole.
Margaret Jean 12-21 and Freddie Cooper 12-34 were moored alongside each other and equipment was transferred to Freddie Cooper
Waiting for the cox'n to finish the paperwork
Freddie Cooper leaving Levington Marina
Freddie Cooper arriving home at Aldeburgh
Read the article published in the R.N.L.I. Magazine
http://magazine.rnli.org/Article/The-legacy-of-the-Aldeburgh-acorns-How-one-177